Exhibit at the Jewish Museum of Vienna,
Nov. (2005) - May (2006)
Endstation Schein-Heiligenstadt: Erich Zeisls Flucht nach Hollywood
(End of the line "Unholy-wood": Eric Zeisl's Flight to Hollywood)
Curators: Michael Haas, Werner Hanak and Karin Wagner

The reason for the exhibition's background color: Eric Zeisl referred to Hollywood as "a blue, sunny grave." ("ein blaues sonniges Grab")
The exhibit traces his early recognition as composer in Vienna, his flight on November 10th, 1938, via Paris (1938-39) to New York (1939-1942) and ultimately to Hollywood, 1942, until his untimely death in 1959 at 53 years of age. The exhibit begins with Zeisl's Austrian side with several pictures, not all displayed here, of him in Lederhosen, an authentic Austrian. Zeisl and his wife Gertrud, a lawyer, fled the Nazi takeover in 1938, the day following "Kristalnacht," after having sent all their worldly belongings ahead of them, to Los Angeles: They had a choice of sending freight either to Australia or Los Angeles, though not knowing at all where, if at all, they might ultimately begin a new life.
Pictured below is Zeisl in typical Austrian garb, the Nazi "jubilation" takeover, and their symbolic furnishings in crates, a wall enlargement of a picture of the Zeisls' furniture from their home in Vienna, and a letter of affidavit by a New York stranger with the same name of Zeisl (Zeisel), who addressed his letter of support (which saved their lives) to the Zeisls in Vienna, GERMANY!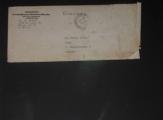 Next, the transit to Paris, where Zeisl befriended composer Darius Milhaud, and Alma Mahler-Werfel (both featured later, in the Hollywood section). Below at left a picture of exiled Austrian novelist, Joseph Roth, who died in Paris in 1939, when Zeisl did the incidental music to a memorial play based on Roth's novel, Hiob (Job). Also pictured below is a photo enlargement of Zeisl with friends Kafkas and brother, Willy. Kafka (no relation to Franz) was a novelist, became a journalist for Aufbau and Variety (Hollywood Calling) and wrote the libretti to Zeisl operas Leonce and Lena and Hiob (Job). Zeisl's younger brother Willy, here pictured at the far end of the panel in Lederhosen, became long-time Cantor for Berlin Rabbi Jakob Sonderling's Congregation (Fairfax Temple) in Los Angeles.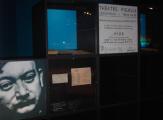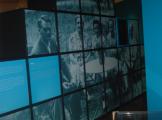 Below, a few pictures from the early American days in New York and tenement life, where their only child, Barbara, was born, 1940: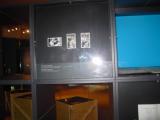 Then, in 1942, the transit to Hollywood:
Pictured below is an imaginary dinner party round table, with guests comprised of acquaintances (some legendary) befriended by the Zeisls in the Hollywood years. All are inscribed with names, addresses and phone numbers in the Zeisl address books, also pictured in the middle, below. The guests appear as if on menus, with their photos and biographies, and then the valuable Zeisl archival materials from them to Zeisl,such as letters,invitations, or dedications, appear in sunken portholes, as dinner plates. Featured are Tansman, Altmann (husband of the celebrated Klimt heiress), Feuchtwanger, Eisler, Toch, Korngold, Stravinsky, Milhaud, Gertrud Schoenberg, and Alma Mahler-Werfel: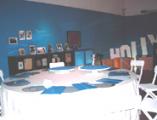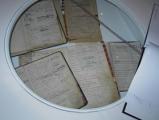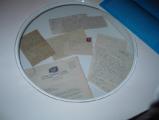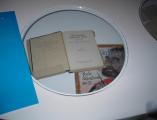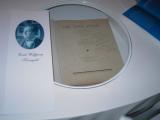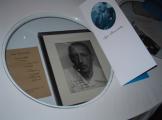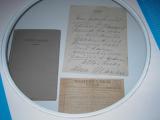 The pictures below show enlargements of personal pictures of Zeisl in the Hollywood years, adjacent to the "dinner table," and finally, Zeisl teaching his evening class at Los Angeles City College, where he met his death on February 18, 1959, at age 53. Also pictured are letters of condolence from Igor and Vera Stravinsky,as well as a personal telegram from Alma Mahler Werfel: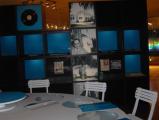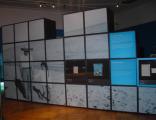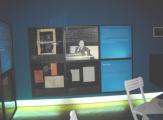 This is the layout of the Jewish Museum of Vienna's Eric Zeisl Exhibit
Curators: Michael Haas, Werner Hanak and Karin Wagner
Thomas Geisler, Exhibit Architect