Recent and upcoming
Zeisl music performances and events
2018
Tuesday, November 13th, 2018, 8:00 p.m.
Performed by Niederrheinischen Sinfoniker
Conducted by Michael Preiser
Program:
Joseph Haydn: Missa in tempore belli in C major "Paukenmesse"
Giya Kancheli: Chiaroscuro (For Violin And Chamber Orchestra)
Eric Zeisl: Requiem Ebraico. Psalm 92
Sunday, August 26th, 2018, 7:00 p.m.
The Promise: A Zeisl Concert
Gindi Auditorium
American Jewish University
15600 Mulholland Drive
Bel Air, 90077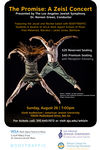 Presented by The Los Angeles Jewish Symphony
Dr. Noreen Green, Conductor
Featuring the Jacob and Rachel ballet with BODYTRAFFIC and Students and Alumni of UCLA Herb Alpert School of Music
Fred Melamed, Narrator
Jared Jones, Baritone